Accessories
A complete range of solutions
---
Hydropneumatic, in order to complete its range of products and solutions, has designed and developed a full range of accessories suitable to overcome common issues and limits when using standard products not engineered for the specific applications.
The range spans from mechanic to pneumatic, hydraulic and electric accessories namely:
Fire Sensors
SSSV Blowout Preventer
Manual remote ESD Station
Relays
Interface Valves
Sand probe and relevant assemblies
Delay Control Valves
Velocity Check Valves
Excess Flow Valves
Relief Valves
By-Pass Valves
Loading Valves
Quick Exhaust Valves
Test Valves
Pressure Sensors in Single, Tandem, Manifold and mounted outside the control unit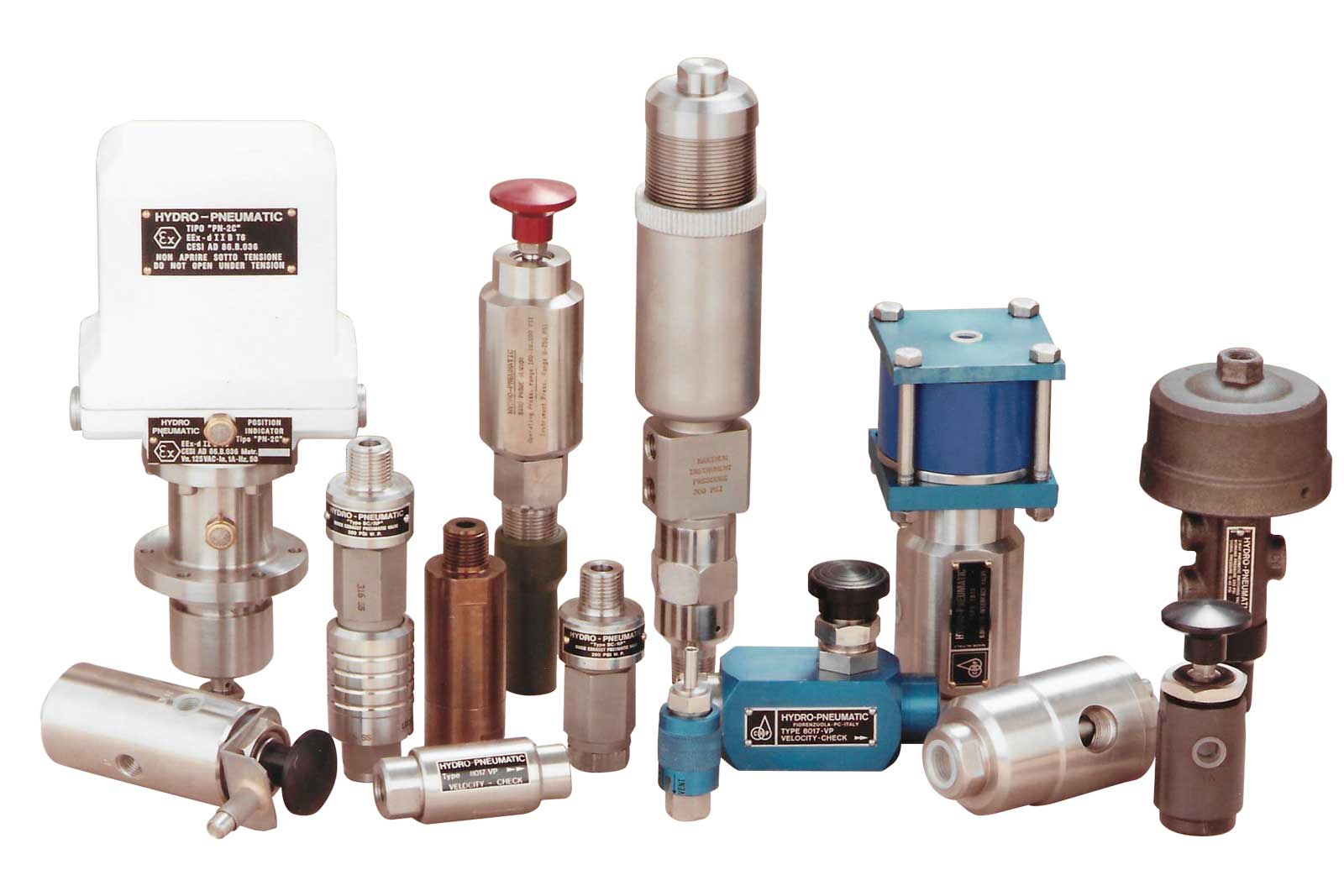 Fire sensors
Specifically designed for an extra measure of safety on control systems, the plug contains a low-melting alloy that melts at fire temperature and bleeds control pressure downstream blocking at the same time the upstream pressure.
---
Types
Unit 8029 – 3/8" or ½" NPT
Unit 8030 – Stub tube type connector 3/8" tubing and 10 mm tubing OD (without ferrule and nut)
Unit 8834 – Block & Bleed Unit for panel mounting with control pressure up to 250 psi and block & bleed action
Melting points
75°C (167°F)
95°C (203 °F)
Other melting points available upon request
SSSV Blowout Preventer
Application
The SSV Blowout preventer is designed to control excessive fluid return from a SSSV (Surface controlled Subsurface Safety Valve); the device may be connected directly to the wellhead control tubing port.
The SSSV Blowout Preventer permits to properly operate any Subsurface Safety Valve with a displacement of 575 cm3 (35 inch3).
If control line return flow reaches the volume of 575 cm3 total displacement, the BOP will automatically close the control line to prevent a blowout.
Unit 8526
Features
Available in 316 SS or F51 Duplex
Operating pressure 0 ÷ 10 kpsi (704 bar)
Operating temperature range -20 ÷ +250°F (-29 ÷ +121°C)
Outlet nipple with double check valve
Second check valve with soft seal
Automatic reset when applied control pressure
External reset indicator
Manual remote ESD Station
Unit 8816
The manual Remote ESD station is of high visibility, heavy-duty panel made of 316 stainless steel.
The ½" block & bleed ball valve is in 316 SS provides quick venting of control pressure. The panel displays position indication and can be fixed on existing pipe or welded on any suitable metal support.
Others HYDROPNEUMATIC Products